Not to mention the torrid affair with my bedspread…
on
June 9, 2013
at
3:00 pm
Better be careful there, Cornell.  You're hovering awfully close to actually giving this comic an actual plotline.
And now, to distract you from my having nothing interesting to say, here's some Baujahr fan art by the amazing Insane Layne Toth!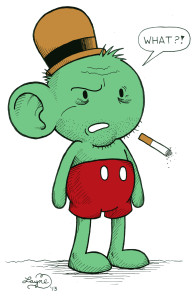 Layne (and her sister Peri) is one of the brilliant creators behind Sisters Comics, and you can see her work in Flint Comix each month, including this month's cover where she inks a piece by living legend George Perez!
Click here for reuse options!


Copyright 2013 Baujahr! by Levi Krause